New York (February 25, 2023) – This Saturday, UpStaged Entertainment Group (UEG), home of the National Collegiate Performing Arts (NCPA)™ and the National High School Performing Arts (NHSPA)™, and Harlem School of the Arts (HSA), hosts a "Selection Saturday" NCPA and NHSPA Step Championship bracket announcements and celebratory events of spoken word, step, and hip-hop performances and celebrity panel.
Newly named New York Poet Laureate Kayden Hern, a nine-year-old honor student born and raised in Harlem, will be delivering a spoken word performance. This invitation-only event serves as a culminating moment in Black History Month, with an afternoon recognizing the indigenous African art form of "Step," combined with the honoring and celebrating of African American performers.
Hosted by Sirius XM radio personality "D-Stroy," Saturday's events include a step class tutorial led by Step legend and Players Club Entertainment Founder Ed Nelson, a singing performance by Sarafina Belafonte, granddaughter of acclaimed actor activist Harry Belafonte, and dance performances by HSA dancers and defending NCPA Step Champion Tufts Blackout. The celebrity performing artist panel, "From Harlem to Hollywood" features Nelson, Belafonte, and Tony and Grammy nominated Broadway star Phillip Boykin. The panelists will discuss their journey to the stage (Broadway, Hollywood, and beyond), with the goal to inspire the next generation of performing artists.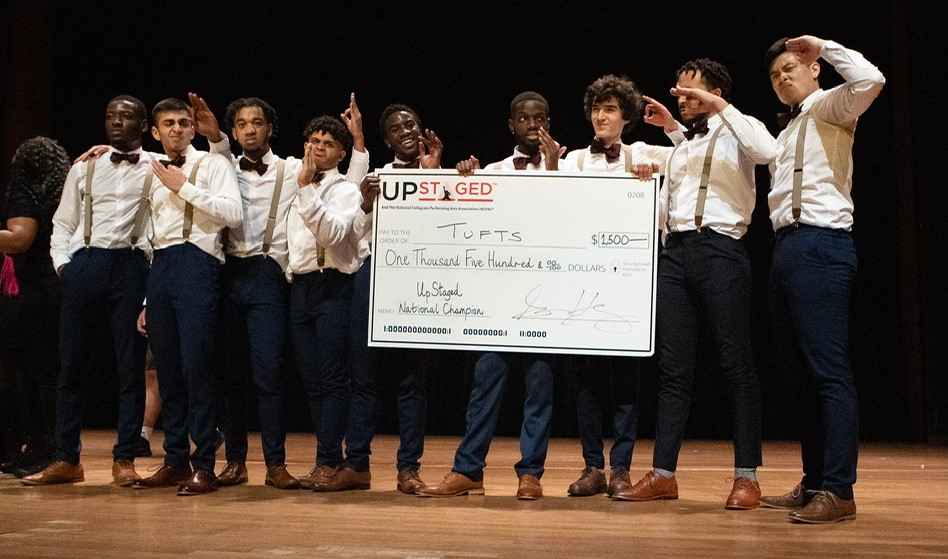 2020 NCPA Step Champions, Tufts University
Team "Blackout" celebrates their win at Lincoln Center
The afternoon will conclude with the "Selection Saturday" unveiling of two "March Madness" type college and high school step team brackets matchups that feature the nation's best student step teams and reveal the NCPA and NHSPA Step Championships venue, and other exciting new developments.
"By celebrating African American student performing arts history, culture and excellence at HSA, the premiere Harlem student performing arts institution, we help elevate their voices and highlight their achievements," said Victoria Duruh, UEG's Chief Talent Officer.
Harlem School of the Arts was recently renovated and has expanded the use of its modernized facility, making it one of the most unique venues in New York City.
"HSA is thrilled to be hosting UpStaged's Selection Saturday. This celebration of Black performing arts and artists will no doubt be a spirited display of joy and excellence for our students and community," said James C. Horton, HSA President.