Starting college is always a daunting task — navigating new places, difficult classes, and extracurriculars is a lot to juggle. And, for student performers, trying to find your way in a new theater environment is particularly challenging! Luckily for the 14,000 students at Syracuse University in New York, the organization First Year Players (FYP) is working to make this transition easier.
FYP is a student-run organization that gives first-year and transfer students at Syracuse the opportunity to participate in an annual spring musical as a member of the cast, crew or pit. To learn more about this program, UpStaged spoke with the two co-producers of FYP: Ofentse Mokoka and Maya Konoff. Ofentse is a senior from Pretoria, South Africa who is majoring in Economics as well as Writing and Rhetoric Studies. Maya is also a senior and is from Long Island, NY, majoring in psychology and minoring in human development. Ofentse and Maya have both been a part of FYP since their sophomore year.
UpStaged: Hi, both of you! Thank you both so much for chatting with us today. To start us off, tell us how you both got involved with FYP.
Both: First Year Players has a very strong presence on the Syracuse University campus; within the first few days on campus one can hear about FYP from Orientation Leaders and see them tabling at the involvement fair. Given that there is such a large and diverse group of students involved in the organization, we heard about it from upperclassmen members in our other organizations like a cappella and Hillel. We both got involved in FYP by auditioning in the spring of our sophomore year and joining the cast of 9 to 5.
U: How has FYP shaped the way you view the theater?
Both: One of the amazing things about FYP is how many sides of musical theater you get to see, from getting to be on stage in our first year to getting to see the different behind-the-scenes aspects that are required to put on such a massive production. Being on staff in FYP has given us the opportunity to see sides of producing that we may not have gotten to see otherwise. The organization has really shown us how crucial every single team and staff member is and that there are no small jobs when it comes to putting on a full-scale production.
                         Credit: First Year Players
U: Do you plan on continuing with the performing arts after you graduate? 
Both: It's fair to say that once a theater kid, always a theater kid. Even though neither of us is pursuing a degree in the performing arts, it is always going to be part of our lives in some way or form.  
U: What makes FYP different from other performing arts organizations at Syracuse? 
Both: The biggest thing that differentiates FYP is the fact that it was created for students who aren't pursuing degrees in the performing arts but still want a creative outlet in college. While we aren't necessarily as serious as students who are pursuing degrees in things like musical theater or acting, we create a space where theater-loving students can share their love with each other and the campus community. 
U: How can people get involved in FYP? 
Both: If you are a first-year or transfer student you can get involved by auditioning or interviewing for our cast, crew or pit at the beginning of the Spring semester. If you aren't a first-year or transfer student, you can apply to be a staff member. Our staff member applications are currently open, people can find the application and information about the positions available on our Instagram @fypsyracuse or email us at firstyearplayers@gmail.com .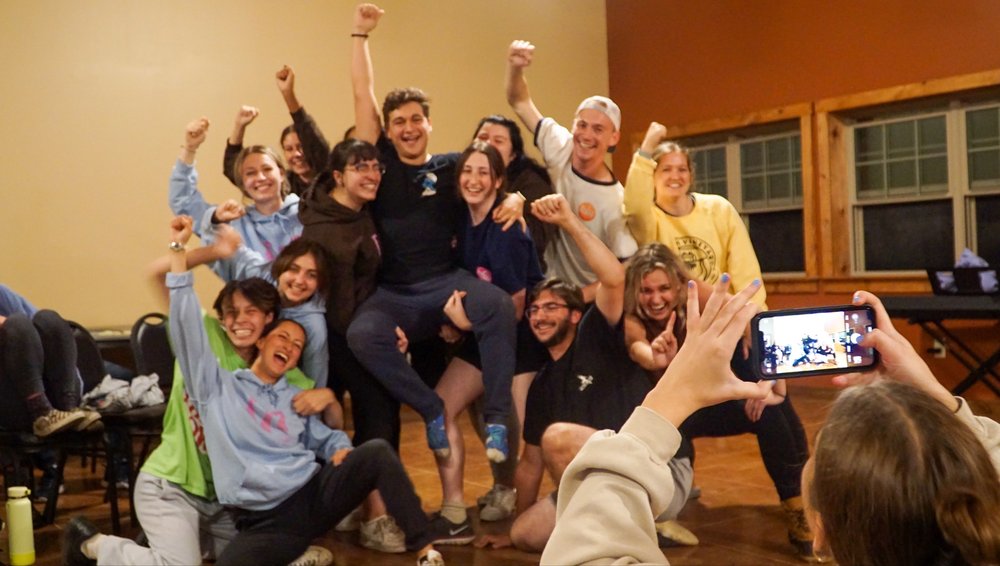 Credit: First Year Players
U: Finally, can you both tell us about your favorite memories of FYP? 
Ofentse: One of the great treasures of FYP aside from our spring musical is our mentor/mentee program. Each first year gets paired with an upperclassman within the organization who is their mentor through their first semester. The night I found out who my mentor was is the best memory I have with FYP to date. Not only did I bond with my mentor immediately, but I also met the rest of my FYP family; it was one of the first moments I realized that the organization was bigger than just a musical. It was a home for many people, and it would be a home for me. 
Maya: I have made countless memories in FYP over the last three years but there is one that will always stick out to me the most. In March 2020, just before the pandemic hit, we were at the height of our rehearsals for our production of 9 to 5. At our last rehearsal before spring break, no one wanted to admit it, but we all knew that it would likely be our last rehearsal ever and that our show would probably be canceled. So the upperclassmen in the organization surprised us and came to watch so that we would have the chance to perform in front of an audience. After we finished, we all started hugging and crying together. At the risk of sounding too cliché, it was at this moment that I realized FYP had become so much more than just a theater organization. These people have become my family and I will always be grateful to FYP for the community it gave me on campus.  
U: Thank you both again for chatting with us, and we wish you the best of luck in your future endeavors! 
Whether you are an experienced thespian or are interested in getting involved in theater for the first time, FYP is a perfect place to start at Syracuse! To stay updated on all things FYP, make sure to follow them on Instagram @fypsyracuse.  
                         Credit: First Year Players
Don't forget to follow us on Instagram @upstagedncpa for updates on all things college performing arts and check back in next week for another Student Performer Spotlight!